Information for health care practitioners
Treatment and diagnosis
Enhanced diagnostic fluorescein photography demonstrates that 90% of dry eye patients have punctate keratopathy. It is the only clinical test found to be diagnostic of dry eye. No existing prescription or over-the counter drops significantly reduced punctate keratopathy. Over a ten year period we researched how to resolve punctate stain and restore the tear coating. This new drop restores the corneal surface. The product will be available as Lubrisity™️ and a mentholated version Lubrisity Cool™️
Many thanks to the patients who helped  us in its development.  Together we will help the millions of dry eye patients. 
Oil to lubricate the blink
The previously used oil bound to water is less effective than unbound oil. It washes out within minutes through the punctum. Our new bioavailable lubricant allows oil to separated on the ocular surface. Many doctors make the assumption that water is an adequate ocular lubricant. Oil is much more effective on moving surfaces than water. The rapid blink requires oil since water's weak intermolecular hydrogen forces allows it to thin out.  Without oil the friction against the cornea causes punctate keratopathy. * (We question the old notion that oil exists only to prevent the cornea from drying out. Water does not significantly evaporate in 5 seconds at body temperature! (Evaporation constant). The tear breakup time is due to a poor tear film coating. Additional scientific information is available under Biotribology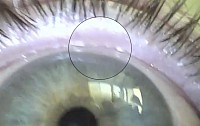 Meibomian ducts put oil and lipid sphericles into the tear film
Lipid sphericles

There are thousand of tiny particles in the tear film as seen in this photograph on the first page. These particles were never understood. They act like ball bearing spacers to allow the lid to glide over the cornea during blinking and ocular rotations. They are made in the meibomian glands of the upper and lower lid margins and secrete particles with oils onto the ocular surface during the  blink. See video below

Synthetic 'lipidzomes' (patent applied for)
We found these particles decreased in dry eyes. Therefore we developed a waxy oil lubricating  particle to replace them. Clinically they helped lubricate eyes.                See the high magnification photo below
Lubrizity Cool™️
Menthol has long been known to have a cooling effect on the ocular surface. It has been hypothesized that low dose menthol may promote ocular comfort through agonist activity on an evaporation-induced temperature sensory channel Transient Receptor Potential Melastatin 8 also known as TRPM8.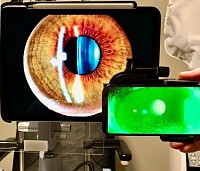 EyePhotoDoc special photographic package for dry eyes
Clinical proof
We used objective tests of fluorescein photography in addition to the patient's subjective responses. All the patients had previously failed relief from multiple other dry eye drops. They all had punctate stain and were photographed using a special fluorescein LED exciter and an EyePhotoDoc camera before starting drops and 1 month after. Camera available here EyePhotoDoc.com
Results
Most patients had a reduction in punctate stain and increased comfort at one month. This was clearly seen on fluorescein photography below at one month.  Videos showed a better tear film coating and improvement in the tear breakup time.  Noice how the 'dry spots' reduced or resolved.